To answer your question straight out, the best time to hike Machu Picchu, in our opinion, is on the shoulder months of the dry season, Late April / Early May and Late September / Early October.
At these times the trails tend to be significantly quieter than peak season, the Citadel less packed and the weather conditions relatively good.
If you are not too bothered about crowded trails, busy hotels and the tourist hordes that visit Machu Picchu by train from Cusco each day then the best time to hike Machu Picchu is during the dry and peak season which runs from May through to September.
If you decide to go during the peak season you will need to book early if you want to grab one of the 500 permits available on the Inca Trail each day (note: about half are taken by guides and porters).
Alternatively you could trek on the less popular (yet equally authentic trails) of Salkantay, Lares or Vilcabamba, but be prepared for a more challenging hike – see trail and route options here.
The wet season begins in November and gets into full swing over the months of December, January and February. The Inca Trail is closed every year in February for restoration. We do not recommend trekking Machu Picchu in these months, although if you plan to catch a train from Cusco you can get lucky with the weather and have a lovely day in Machu Picchu.
November and March are risky months for trekking (not for visiting Machu Picchu by train) but it is still possible to encounter limited rain. The upside of these months is that you will have the trail largely to yourself.
In this article we provide useful historical weather charts on temperature, rainfall and wind. You will notice that like most of the sub-tropics in the Andes, there are only two season – dry (May-September) and wet (November-April), and that temperature are moderate during the day and cold at night.
Best Time To Hike Machu Picchu
Temperature Chart: Ave. High and Low Temperatures (degree C)
Below you can see the average high and low temperatures for Machu Picchu.
You will notice that temperatures are relatively consistent throughout the year, this is a common feature in the sub-tropics. The maximum highs and lows can fluctuate though, as you can see on the chart.
It is worth noting that temperatures are usually moderate to warm during the day at Machu Picchu, but drop relatively rapidly in the evening, and can go below zero at night time.
For this reason it is important to bring layered clothing throughout the year (here are equipment packing list requirements for Machu Picchu).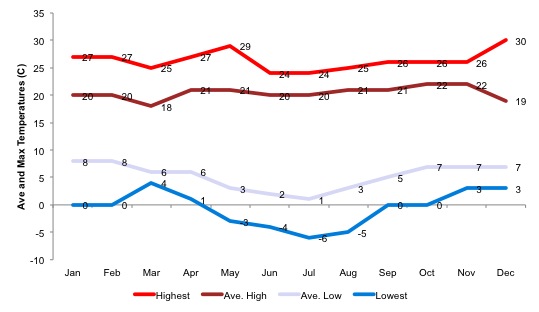 Rain Chart: Ave. Monthly Rainfall (mm)
The rain chart shows average monthly rainfall in Machu Picchu. You can clearly see the two distinct seasons. The dry months run from late April through to early October, and the wet months from late October through to early April. The best time to hike Machu Picchu if you are trying to avoid rain is May through September. This is of course the busiest time as well.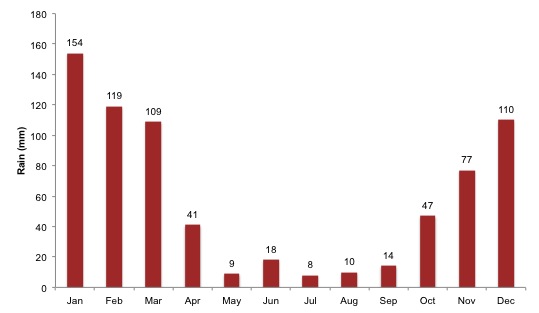 Ave. Number Rain / Drizzle Days
There is a possibility of encountering some rain, or drizzle, at any time in the year. The chart below shows the average number of rain / drizzle days by month. Unsurprisingly the trend matches the average precipitation by volume chart shown above.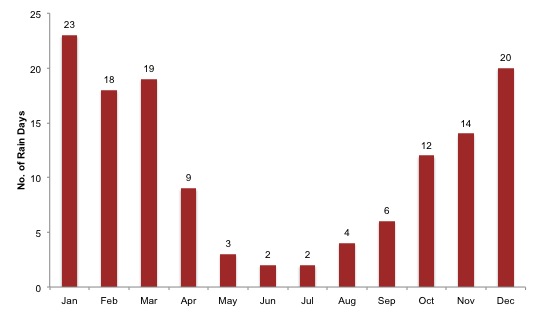 Wind Chart: Ave. Wind Speeds (km/h)
The chart below shows average monthly wind speeds (km/h) in Machu Picchu. As you can see the average is relatively low and consistent. The light grey bars show the maximum winds speeds ever recorded in Machu Picchu.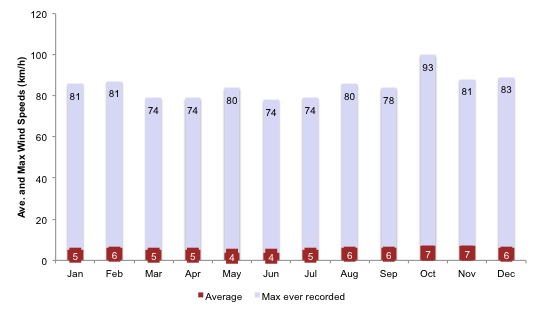 Month by Month Breakdown
January (Wet, Quiet, Avoid Trekking)
Overview: A wet month, not the best time to hike Machu Picchu
Temperature: Daytime average highs are around 20 degree C (68F) and night time average lows around 8C (46F)
Humidity: Average daily relative humidity is around 66%
Rain: It rains on average 23 days of the month and total average precipitation is around 154mm (6 inches)
Wind: Average daily wind speed is around 5km/h (3 mph), with absolute maximum being recorded at 81km/h (51 mph)
Fog: Not a foggy month in general
February (Inca Trail Closed)
Overview: Another wet month, and not the best time to visit to Machu Picchu
Temperature: Daytime average highs are around 20 degree C (68F) and night time average lows around 8C (46F)
Humidity: Average daily relative humidity is around 66%
Rain: It rains on average 18 days of the month and total average precipitation is around 188mm (5 inches)
Wind: Average daily wind speed is around 6km/h (3 mph), with absolute maximum being recorded at 81km/h (51 mph)
Fog: Not a foggy month in general
March (Wet, Quiet, Okay for Trekking)
Overview: Yet another rainy month, and not the best time to hike Machu Picchu, Not a bad month to visit Machu Picchu if you just taking a train from Cusco
Temperature: Daytime average highs are around 18 degree C (64F) and night time average lows around 6C (42F)
Humidity: Average daily relative humidity is similar to Jan and Feb, around 66%
Rain: It rains on average 19 days of the month and total average precipitation is around 109 mm (4 inches)
Wind: Average daily wind speed is around 5km/h (3 mph), with absolute maximum being recorded at 74km/h (46 mph)
Fog: Not a foggy month in general
April (Moderately Wet, But Quiet, Fine for Trekking)
Overview: Rain begins to dry up towards end of April, a quiet month and good for visiting Machu Picchu or trekking the Inca Trail
Temperature: Daytime average highs are around 21 degree C (70F) and night time average lows around 6C (42F)
Humidity: Average daily relative humidity is a little lower than the first three months, at 63%
Rain: It rains on average 9 days of the month (mainly at the beginning) and total average precipitation is around 41 mm (2 inches)
Wind: Average daily wind speed is around 5km/h (3 mph), with absolute maximum being recorded at 74km/h (46 mph)
Fog: Not a foggy month in general
May (Dry, Starts to get Busy)
Overview: Rain ostensibly drys up in May and the trekking season begins, you will need to book early to secure Inca Trail permits in May
Temperature: Daytime average highs are around 21 degree C (70F) and night time average lows around 3C (37F)
Humidity: With lower rainfall, moisture content is lower and average monthly relative humidity drops to 56%
Rain: It rains on average 3 days of the month and total average precipitation is around 9 mm (0.5 inch)
Wind: Average daily wind speed is around 4km/h (2.5 mph), with absolute maximum being recorded at 80km/h (50 mph)
Fog: Fog is possible
June (Dry, Peak Season)
Overview: Dry and Busy, Trekking season is in full swing, Trails are Busy, Permits difficult to get and the Citadel packed by 11am
Temperature: Daytime average highs are around 20 degree C (68F) and night time average lows around 2C (35F). Get's cold in the evening
Humidity:  Average monthly relative humidity is 54%
Rain: It rains on average 2 days of the month and total average precipitation is around 18 mm (1 inch)
Wind: Average daily wind speed is around 4km/h (2.5 mph), with absolute maximum being recorded at 74km/h (46 mph)
Fog: Fog is possible
July (Dry, Peak Season)
Overview: Dry and Busy, Trekking season is in full swing, Trails are Busy, Permits difficult to get and the Citadel packed by 11am
Temperature: Daytime average highs are around 20 degree C (68F) and night time average lows around 1C (33F). Expect cold weather in the evening
Humidity:  Average monthly relative humidity is 52%
Rain: It rains on average 2 days of the month and total average precipitation is around 8 mm (0.5 inch)
Wind: Average daily wind speed is around 5km/h (2.5 mph), with absolute maximum being recorded at 74km/h (46 mph)
Fog: Fog is possible
August (Dry, Peak Season)
Overview: Dry and Busy, Trekking season still in full swing, Trails still Busy, Book permits early and get to Machu Picchu early
Temperature: Daytime average highs are around 21 degree C (70F) and night time average lows around 3C (37F). Expect cold weather in the evening
Humidity:  Average monthly relative humidity is 52%
Rain: It rains on average 4 days of the month and total average precipitation is around 10 mm (0.5 inch)
Wind: Average daily wind speed is around 6km/h (3 mph), with absolute maximum being recorded at 80km/h (51 mph)
Fog: Fog is possible
September (Dry, End of Peak Season)
Overview: Season starts to die down and early rains are possible, Trails still busy and permits tough to come by
Temperature: Daytime average highs are around 21 degree C (70F) and night time average lows around 5C (41F)
Humidity:  Average monthly relative humidity is 53%
Rain: It rains on average 6 days of the month and total average precipitation is around 14 mm (1 inch)
Wind: Average daily wind speed is around 6km/h (3 mph), with absolute maximum being recorded at 78km/h (49 mph)
Fog: Fog is possible
October (Early Rains, Quiet, Fine for Trekking)
Overview: Rainy season begins in late October. Good month for trekking as trails start to get quieter
Temperature: Daytime average highs are around 22 degree C (72F) and night time average lows around 7C (45F)
Humidity:  Average monthly relative humidity is 56%
Rain: It rains on average 12 days of the month and total average precipitation is around 47 mm (2 inches)
Wind: "Windiest" month. Average daily wind speed is around 7km/h (3 mph), with absolute maximum being recorded at 93km/h (57 mph)
Fog: Fog is possible
November (Moderately wet, Fine for Trekking)
Overview: Rainy season has arrived, but trails are still fine for trekking if you don't mind getting a little wet. Trails are quiet
Temperature: Daytime average highs are around 22 degree C (72F) and night time average lows around 7C (45F)
Humidity:  Average monthly relative humidity is 57%
Rain: It rains on average 14 days of the month and total average precipitation is around 77 mm (3 inches)
Wind: Average daily wind speed is around 7km/h (3 mph), with absolute maximum being recorded at 81km/h (50 mph)
Fog: Fog is possible
December (Wet, Not Good for Trekking)
Overview: Rainy season in full swing, too wet for enjoyable trekking but fine to visit Machu Picchu if you are taking a train from Cusco
Temperature: Daytime average highs are around 19 degree C (66F) and night time average lows around 7C (45F)
Humidity:  Average monthly relative humidity is 62%
Rain: It rains on average 20 days of the month and total average precipitation is around 110 mm (4 inches)
Wind: Average daily wind speed is around 6km/h (3 mph), with absolute maximum being recorded at 83km/h (51 mph)
Fog: Fog is possible
Tags: Best time to hike Machu Picchu, Best time to visit Machu Picchu, Best time to go to Machu Picchu, Best time of year to visit Machu Picchu, Best time to travel to Machu Picchu, Machu Picchu best time to go, Machu Picchu best time to visit, Best time of year to go to Machu Picchu, Best time to visit Peru Machu Picchu, When is the best time to visit Machu Picchu, Best time to climb Machu Picchu, Best time of year to hike Machu Picchu
References: (1) MyWeather