Visiting Machu Picchu is for most people a once in a lifetime experience, but getting there can be a little complicated and stressful.
The journey usually starts with a flight from your home country to Lima, Peru. If you are flying from within Peru or indeed Bolivia, there are five airports with direct flights to Cusco. They are:
Arequipa, Peru (1h 0m)
Juliaca, Peru (55m)
Lima, Peru (1h 15m)
Nuestra Señora de La Paz, Bolivia (1h 0m)
Puerto Maldonado, Peru (50m)
The main airlines that fly from these destinations to Cusco are LAN, Avianca and Peruvian Air Line.
Once in Cusco you are approx. 80km South-east of Machu Picchu, which you can reach either by joining an organised trek on the Inca Trail or one of the alternative trails to Machu Picchu; catching a train from Cusco or from Ollantaytambo in the Sacred Valley; or catching a minivan / bus from Cusco / Ollantaytambo to the town of Santa Maria, which is just north of Machu Picchu, and then continuing by foot or vehicle to Santa Teresa, and then onto Hidroelectrica.
In this article – How to get to Machu Picchu – we explain each of these travel options in detail as well as provide the cost and planning considerations of each method of transport.
How to get to Machu Picchu
Trekking to Machu Picchu
Classic Inca Trail
The most popular trek to Machu Picchu is the Classic Inca Trail, which is a 4D/3N hike from the Sacred Valley all the way to Inti Punku, the Sun Gate and sacred entrance to Machu Picchu.
The trek follows original Inca trails that sojourn through incredible cloud forests and high alpine landscapes, and pass by a number of impressive Inca ruins.
Due to it's popularity and archeological significance, the Inca Trail is highly regulated. Only Peruvian companies with specific trekking licenses can operate the trek and hiking permits are limited to 500 trekkers per day (300 of which are used by guides and porters).
For this reason if you plan to trek to Machu Picchu via the Inca Trail you will need to book well in advance.
We recommend securing a trekking date at least 6 months before your departure from your home country, particularly if you plan to visit during the peak dry season of May-September.
To read about the Classic Inca Trail and it variants – the Short Inca Trail and Salkantay / Inca Trail Combo – please check out our detailed route and itinerary guide here.
Alternative Treks to Machu Picchu
There are also a number of fantastic alternative treks to Machu Picchu, which are quieter than the Classic Inca Trail and do not require permits. Early booking is still recommended during the dry peak season (May-Sept).
For footloose backpackers it is possible to book an alternative trek to Machu Picchu from Cusco a few days in advance, but this may mean you need to take the long bus route back to Cusco after visiting Machu Picchu, as return train tickets may have sold out (more on this in the section Santa Maria – Santa Teresa – Hidroelectrica below).
All the alternative treks end at Aguas Calientes, the town below Machu Picchu. Trekkers typically sleep the night in a hotel and rise early the next morning to catch a bus from Aguas Calientes up to Machu Picchu.
It is possible to hike up to Machu Picchu (be prepared for a 90 minute slog up 2,000 steps).
For detailed route and itinerary guides on the alternative treks to Machu Picchu we recommend you read our Machu Picchu Trails and Routes overview article here, or visit the individual trail guides: Salkantay Trek, Lares Trek, Choquequirao Trek, Vilcabamba Trek, Inca Jungle Trek and Huchuy Qosco Trek.
The table below might help you decide which trek is best for you.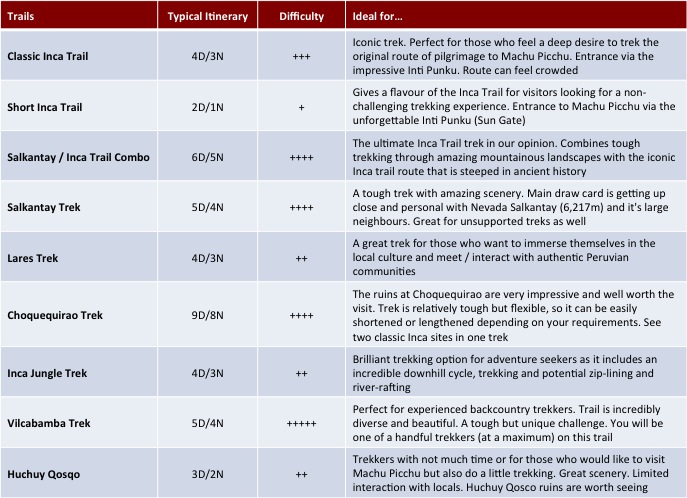 Train to Aguas Calientes
There are two train companies that offer services to Machu Picchu – Peru Rail and Inca Rail. Below we have provided details on their various services. Key things to note:
Once arriving in Cusco we recommend not hanging around. Instead try schedule your train for the same day as your flight arrival. This will help lower the risk of altitude sickness, as Cusco is situated at 3,400m above sea level, significantly above Aguas Calientes (2,040m). We recommend you book a hotel for a night or two in Aguas Calientes as this will give you enough time to properly explore Machu Picchu, potentially climb Huayna Picchu or Machu Picchu Mountain and visit the hot springs in Aguas Calientes
Cusco Rail Station is in fact in Poroy, a nearby town. A taxi from the centre of  Cusco to Poroy takes about 20 minutes and costs a few dollars
It is important that you book your train tickets as early as possible (ideally book your train tickets before you book your flights) as securing a seat can be tricky. Do not arrive in Cusco with a plan to book your tickets there as you will most likely be very disappointed!
Hotels, trekking companies and other third parties often block tickets in advance for their customers, and only need to confirm their bookings 11 days before departure, when they pay. Tickets that aren't confirmed go back onto the market on a first come first serve basis
You need to make full payment and give your name and passport number to make a booking. Tickets are non-transferable and non-refundable, and you will need your passport to board the train (NB: you need your passport to enter Machu Picchu as well)
If tickets are sold out from Cusco you may still be able to get the train from Ollantaytambo Station in the Sacred Valley. It is easy to catch a taxi or minivan to Ollantaytambo from Cusco (or vice versa if your return train from Machu Picchu stops at Ollantaytambo). Taxis between Cusco-Ollantaytambo cost ~US$40 and take about 1.5 hours. Buses and minibuses are considerably cheaper but take a little longer
Ollantaytambo is an interesting town with a number of Inca ruins situated nearby. We recommend spending a night here on your return
Peru Rail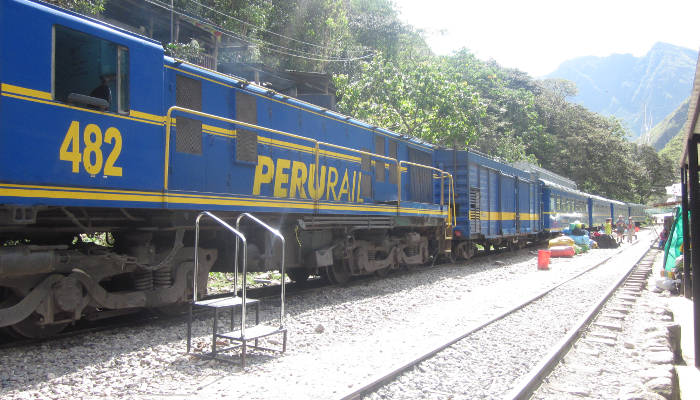 Peru Rail operate three services to Machu Picchu, which depart from either Cusco (~3 hours to Machu Picchu) Urabamba (just the Vistadome) or Ollantaytambo (~1.5 hours to Machu Picchu).
Train tickets can be bought on their website, at their office in Cusco, in Lima (Lacomar Shopping centre in Miraflores) or at the airport.
Here are their three services, ordered from most affordable to luxury.
Expedition (previously known as the Backpacker)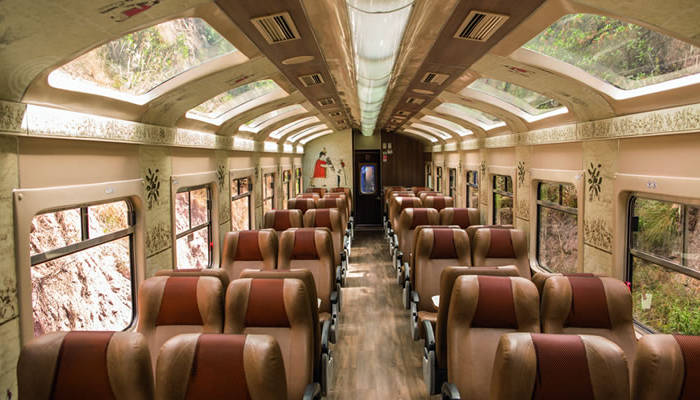 The Expedition service is the most affordable ticket (bar the service that is run just for Peruvians). The seats are comfortable in this service and arranged so that 2 seats always face each other.
The service has air-conditioning and the ceiling is partially glassed to provide better views of the scenery. The service also includes a small snack and drink.
A one-way ticket from Cusco to Machu Picchu costs ~US$65-75 (2014/2015). Click here for timetables and prices.
Vistadome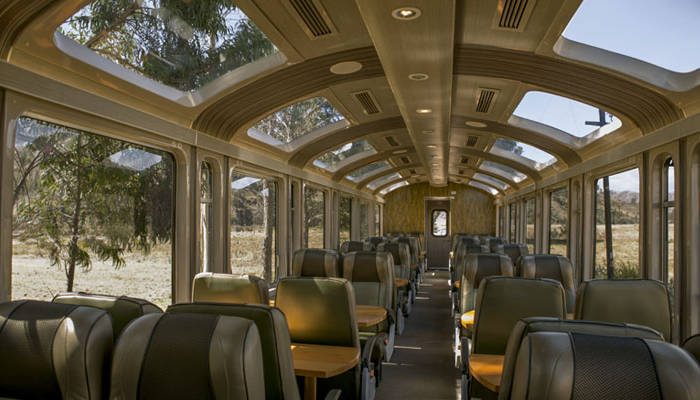 The Vistadome, as the name suggests, is a service which has carriages that maximise the views of the Sacred Valley. The carriage windows are larger than the Expedition train, and the service a little more luxury.
The seats are made from comfortable leather and a better snack is served than that provided on the Expedition. On the return journey you will also be treated to some entertainment from traditional Andean dancers.
A one-way ticket from Cusco to Machu Picchu costs ~US$85-95 (2014/2015). Click here for timetables and prices.
The Belmond Hiram Bingham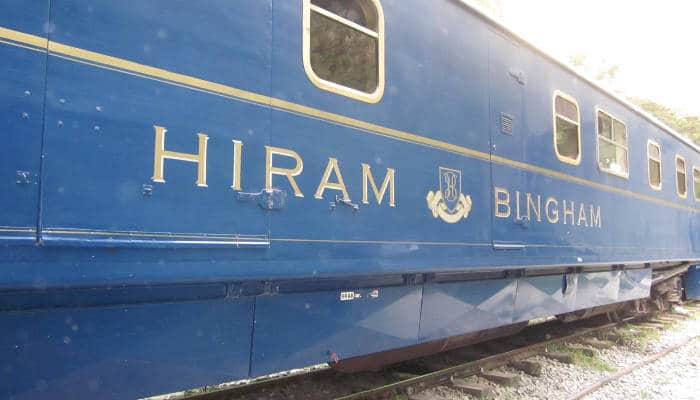 The Belmond Hiram Bingham is for those who want to travel in serious style. The service has won a number of accolades, including being selected as the best train in the world by the readers of Condé Nast Traveller UK in 2011, and voted by NBC as one of the 10 most wonderful train journeys in the World.
This service has four dark racing blue wagons and carries 84 passengers in total. Two of the wagons are for dining, and there is an observation wagon with bar.
A round trip will set you back ~US$800, but includes:
Welcome aperitifs upon arrival at Poroy station, near Cusco
Brunch and an excellent selection of Peruvian wines
On board entertainment
Tourist guide for every group of 14 passengers (best to bunch up with fellow passengers)
Bus tickets and transportation to Machu Picchu
Tea and snacks in the Belmond Sanctuary Lodge,
and a Gourmet dinner on board
You can find out more about the Belmond Hiram Bingham here.
Inca Rail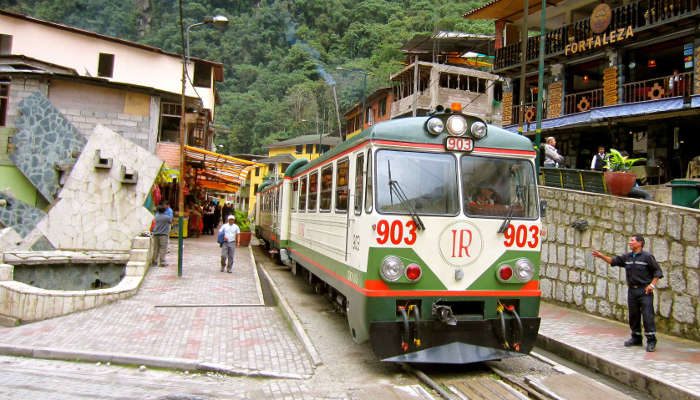 Inca Rail operate trains from Ollantaytambo only. To get from Cusco to Ollantaytambo you can either catch a 1.5-hour taxi (~US$40) or minivan (~US$5), or a 2.5 hour bus (a few dollars). The best minivans are run by Colectivo and can be caught at Paradero Pavitos.
There are four Inca Rail services – Machu Picchu (Economy), Executive Class, First Class and Presidential Class. Tickets can be booked on their website, in their Cusco office or at the airport.
Machu Picchu Train (Economy Train)
The Machu Picchu service is an affordable service that offers comfy seats, onboard snacks and options to pick up last minute supplies (like insect repellant!)
The train runs three times a day to and from Ollantaytambo-Machu Picchu.
Tickets cost ~US$60-US$65 one way. More details on the schedule and booking can be found here.
Inca Train Executive Class, First Class and Presidential Class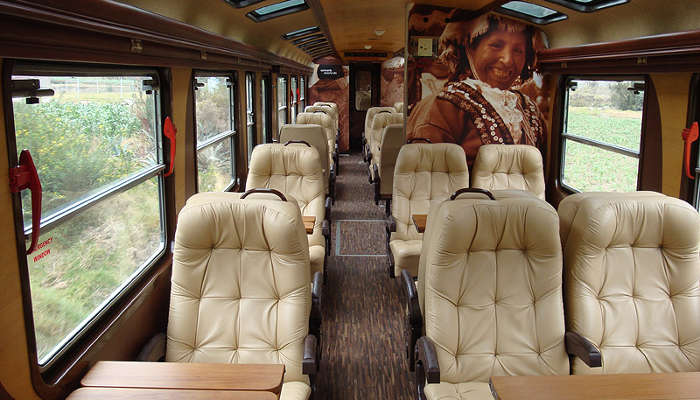 This Inca Rail train is split into three services – Executive, First and Presidential Class – and runs three times daily.
Prices range from US$60 for a one-way ticket in the Executive Class, up to US$200 in the First Class, with the key differences being in carriage design, comfort, service and food. The Presidential Class is a chartered carriage that needs to be booked by a group and is priced on application.
Read more about each service level here, and check out availability.
Santa Maria – Santa Teresa – Hidroelectrica Station Route
If you don't manage to book a train ticket or if you are on a budget, don't fret, you can still get to Machu Picchu using the Santa Maria – Santa Teresa – Hidroelectrica Station Route. This is a long and tiresome route, but is a lot cheaper and can be incorporated into a mini-expedition!
Santa Maria is a small town north of Machu Picchu that is connected to Cusco and Ollantaytambo by road (see trekking map below to get your bearings, Santa Maria is near Chaullay).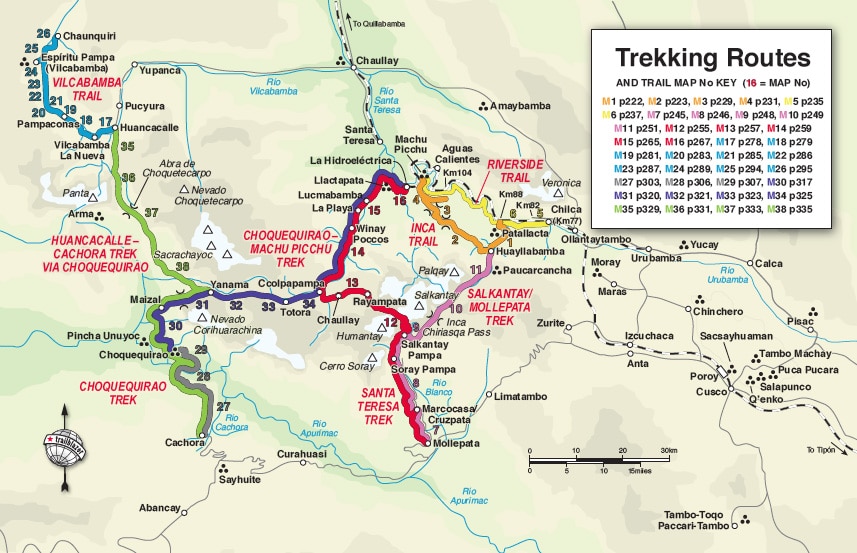 From Cusco the trip to Santa Maria takes 4 hours by minivan (US$10-US$15 pp) or 5 hours by bus (~$US5). From Santa Maria you can either trek to Santa Teresa, a 12km hike (6-7 hours hiking), or catch public transport, which takes about 1.5 hours.
Santa Maria and many areas around it, all the way north to Quillabamba, were severely impacted by landslides in 1998. This means that infrastructure in the area has been set back a lot.
Please Note: Landslides are an annual risk every year during the wet season (Nov-April), which can make this route inaccessible.
From Santa Teresa you can either continue by public transport to Hidroelectirca Station (~40minutes) or hike for 3 hours.
Hidroelectica Station is where the trains from Cusco / Ollantaytambo terminate. You can either catch a 45-minute train from Hidroelectrica to Aguas Calientes (~US$25) or trek a further 2.5 hours to the town.
We recommend overnighting in Aguas Calientes.
In short, if you leave Cusco at 07:00, you should arrive in Santa Maria by 11:00. Another private car to Hydroelectric will get you there by 14:00, and then you can trek the final route to arrive at Aguas Calientes by 17:00. A long day but one that will only set you back $US20-$US$30 one way.
Bus from Aguas Calientes to Machu Picchu
There are two ways to get to Machu Picchu from Aguas Calientes – either trek for 90 minutes up some steep steps or catch a bus. No prizes to guess which option most people choose.
Buses from Aguas Calientes run every 10-15 minutes from 05:30am, and during the peak trekking season queues can form as early as 05:00am. You catch the bus near Plazaa Principal in Aguas Calientes.
The bus trip takes 30 minutes up the switchback road (aka Hiram Bingham Highway) to the official tourist entrance to Machu Picchu.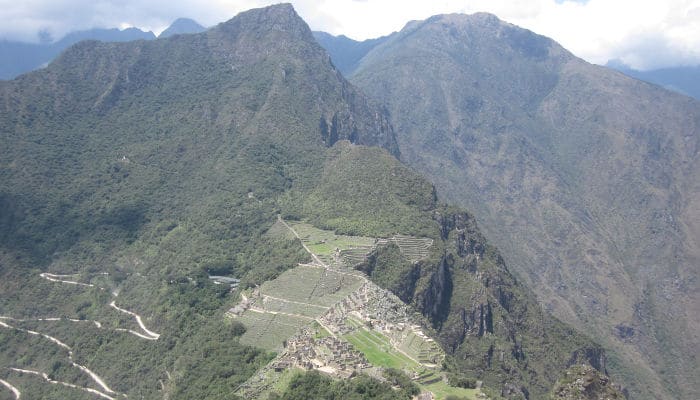 A return ticket currently costs ~US$20 (~US$10 for a one way) and can be bought in Aguas Calientes or at Machu Picchu, if you just need a one way ticket back.
Queues of visitors returning from Machu Picchu to Aguas Calientes start forming around lunchtime. Expect to queue for at least 45 minutes, so make sure you plan enough time to get back to Aguas Calientes for your train (i.e. 45min queue + 30min bus ride)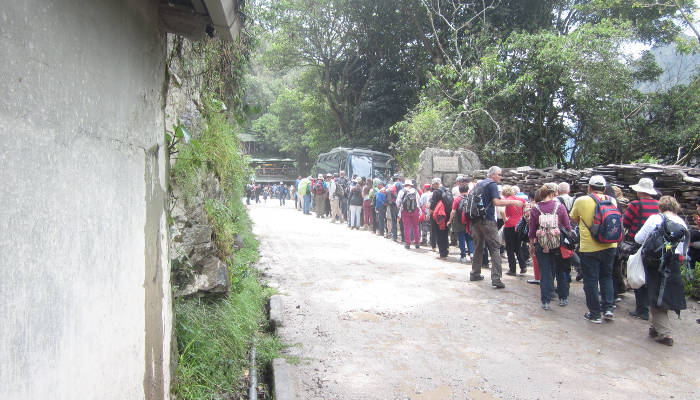 Tickets to Machu Picchu
Okay, so now that you know how to get to Machu Picchu, the final thing you need to prepare are your tickets to Machu Picchu.
You cannot arrive at Machu Picchu and expect to buy tickets at the entrance gate! You need to book your entrance tickets to Machu Picchu in advance.
You can book your Machu Picchu tickets through the government website – http://www.machupicchu.gob.pe/, or from the Instituto Nacional de Cultura (INC) in Cusco or Aguas Calientes' Cultural Centre at the Plazaa Principal.
Hotels, travel agents, hostels and other third parties also sell tickets but we recommend sticking to the first three official ticketing options.
Tickets cost ~US45 for entrance to Machu Picchu and are limited to 2,500 available tickets a day. Half price discounts are available to Peruvian nationals or students with a valid ISIC card. If you wish to climb Huayna Picchu or Machu Picchu Mountain you will need to pay an additional ~US$15, and tickets are limited to 400 permits and two available climbing times (07:00 or 10:00). Find out more about these climbing options here.
Please note: you need to provide your passport number to secure an entrance ticket to Machu Picchu. Tickets are non-refundable and non-transferable.
You well need to have your passport on you to be granted entrance to the Citadel! DO NOT FORGET YOUR PASSPORT.
Tickets are only valid for one day, so if you would like to visit the ruins twice, you will need to purchase two tickets.
Along with your passport, please also remember to bring insect repellant, water, a rain jacket (you never know), and some spare soles (you have to pay to use the toilet).
You can book a guide outside the entrance gate or indeed in Aguas Calientes. We also recommend taking a guidebook. Proper information of what you are looking at will immeasurably heighten your experience. We recommend Ruth Wright's and Alfredo Valencia Zegarra's The Machu Picchu Guidebook: A Self-Guided Tour.
FAQ
Feel free to ask any questions in the comments below and we will respond within 24hours (so check back).
If you found this article useful please share on your social network, or better yet, if you have a blog that is tracing your journey to Machu Picchu, please link to us!
Tags: How to get to Machu Picchu, How do you get to Machu Picchu, How to visit Machu Picchu, Machu Picchu how to get there, How to travel to Machu Picchu
References: (1) PeruRail, (2) Inca Rail, (3) Belmond Hiram Bingham