When choosing between the Salkantay Trek vs Inca Trail, be prepared to make some hard decisions as both hikes are beautiful and memorable, yet each offers a unique experience.
The Inca Trail is one of the world's most popular treks, letting you walk in the footsteps of ancient civilizations. The Salkantay Trek, however, is slightly longer and off the beaten track, with around 72% less foot traffic when compared to the Classic Inca.
This guide will review the Salkantay Trek as an alternative to the infamous Inca Trail. This should help you decide which is the best option for you, based on your hiking goals and style, personal preferences and budget.
What Are The Main Differences Between Salkantay Trek vs Inca Trail?
Routes and Difficulty
Both routes reach altitudes over 4,000 m (13,000 ft) and require a good level of fitness. Do not underestimate the importance of spending a few days acclimatising to the altitude.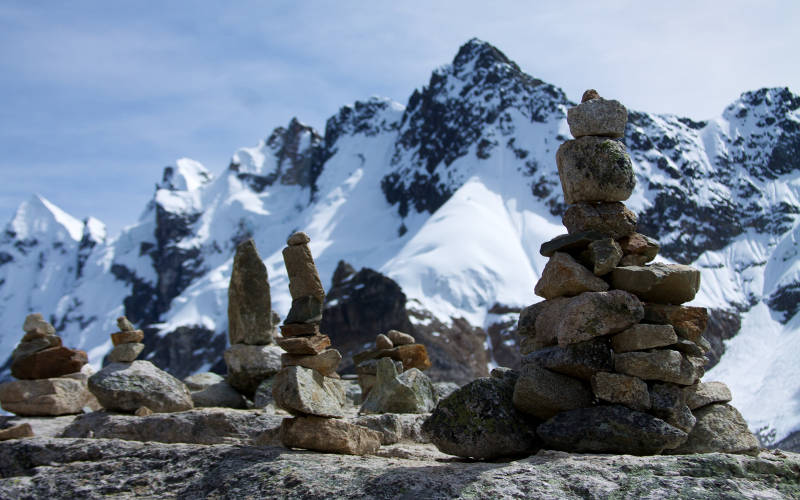 Salkantay Trek: Moderate-Strenuous
This is a longer route, over steep and more difficult terrain and can take over 5 days. Salkantay is definitely the better choice for magnificent Andes' views and some great wildlife sightings. Tour groups usually start at Soraypampa, hiking 46 miles through breathtaking mountain scenery, past Humantay Lake.
The highest point on the Salkantay trek is 4630 m (1,5190 ft) and this is 200 m higher than the highest point on the Inca Trail.
Also, please note that similarly to a lot of other alternative treks, the Salkantay Trek does not end directly at Machu Picchu. Before finishing you will be transported to the Hidroelectrica Station, where you will either hike for another 2-3 hours to the town of Aguas Calientes or use this opportunity to enjoy a magnificent train ride with windows projecting amazing vistas and mountain tops. Train to Machu Picchu costs vary depending on your preference, so check the prices and book early.
Inca Trail: Fair
This is one of the world's most famous hikes with ancient ruins from the Incan Empire, scattered along the historic route from Cusco to Machu Picchu.
The route begins in the Sacred Valley in the town of Piscacucho (also known as Km 82 in Perú). The trail is half the length of the Salkantay Trek with 26 miles (46km) of fairly moderate hiking trails, trekked over 4 days. Hikers reach a maximum altitude of 13,828 feet (4,215 m). However, partially thanks to being the shorter trail this is the only route ending directly in the stone city of Machu Picchu.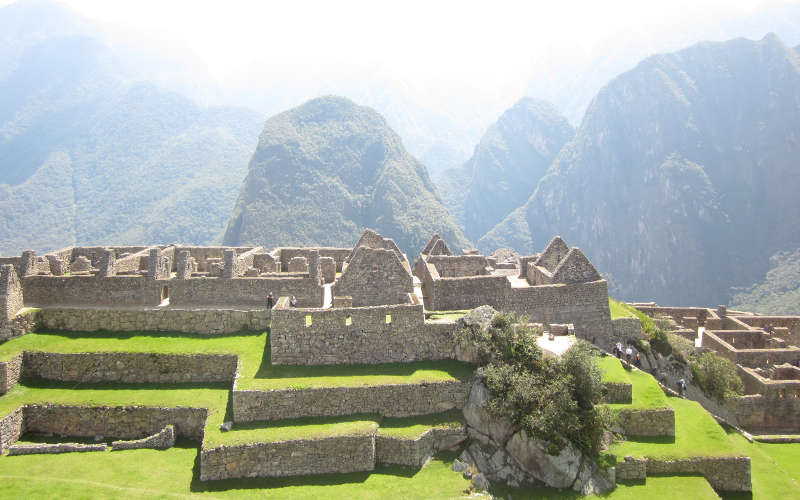 Comparing the Salkantay Trek vs Inca Trail
| | | |
| --- | --- | --- |
| | Salkantay Trek | Inca Trail |
| Distance | 46 miles (74 km) | 26 miles (41km) |
| Average per day | 7.5miles (12 km) | 7 miles (11 km) |
| Most Difficult day | Day 2- Salkantay pass | Day 2- Dead Woman's Pass |
| Other options | Can be done in 4 days if you skip Humantay Lagoon | 2-day short trek available |
| Trail Closed | No, but some operators close February-March | February |
| Risk of altitude sickness | Higher, especially on nights 1 and 2 sleeping above 3,800m | Lower altitude but more time above 3,000m |
Cost and Availability
Salkantay Trek Costs
This trek will set you back between $400-$900 (depending on which tour operator you choose). While there is no permit necessary to hike Salkantay, there is an entrance fee for Machu Picchu and a train ride back to Cusco. Ensure that your package fee is all-inclusive or potentially risk numerous added expenses.
The trek is less touristy so there is no cap on the number of hikers. This is why it is open to all and usually available last minute, even when booking for larger groups.
Inca Trail Costs
The Inca Trail is around 25-35% more expensive than the Salkantay, costing anywhere between $600 and $1,000. As this is one of the world's most popular hikes, you must book 6-12 months in advance. Early planning is especially important if you want to hike during peak season (May-August).
Pro Tip: The best time to book is mid-December when passes are being issued for the following year.
Whilst only 500 people are allowed on the Inca trail each day, this includes guides, chefs and porters. Keep in mind that only 200-250 permits are issued daily for tourists. The limited availability makes this trail more expensive. Group sizes are limited to 16 with two tour guides or one guide for every 8 guests.
Check out: Inca Trail Availability And Permits
Guides and Porters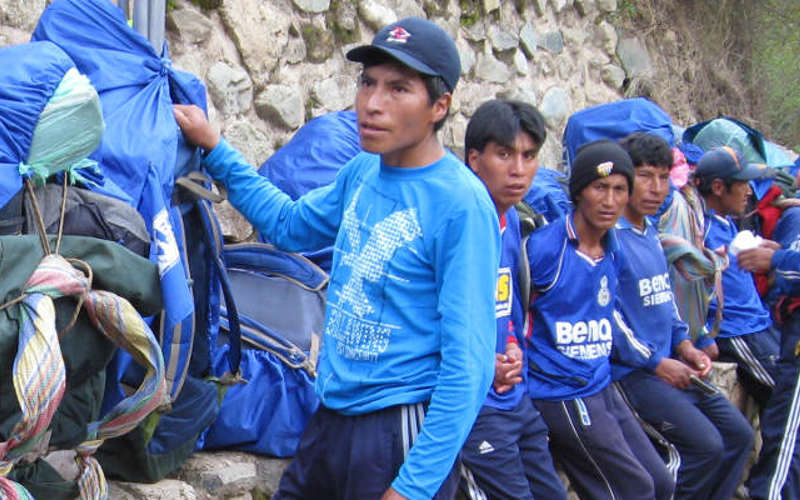 Salkantay Trek Guides and Porters
Treks in the Andies change frequently due to the governmental road building which often includes controlled micro dynamite explosions. So only experienced guides will be able to take you around an unexpected closure on any part of the trail.
This is why guided treks are generally preferred by most international travellers. One of the biggest differences between the Salkantay Trek and the Inca Trail is that the first can be hiked unguided. This means that you'll pay a bit less for accommodation or camping and carry your own gear and food.
Inca Trail Guides and Porters
The Inca trail can only be hiked with permits and a licensed guide, as part of an organised tour. Be sure to book a tour that includes porters or you may have to hire one separately. Porters carry luggage of up to 15 lb per person. This means you can walk more comfortably carrying only what you need for the day.
Read our rough guide on the art of tipping on Machu Picchu.
Accommodation and Facilities
Salkantay Trek Accommodation
Campsites are not strictly regulated along this trail, so your trekking team can choose wherever they think is best to set up more secluded campsites. Depending on your tour,  you might need to get acquainted with wood-toilets and ice-cold stream bathing! There is an option to hike lodge-to-lodge if you can't go without hot showers and a real bed, which is not as comfortable as it sounds but is definitely a better version if you're looking for some creature comforts on this strenuous trek.
You can also book to stay in unique glass tents on the first night, perfect for stargazing. On the last night, hikers have a choice of hotels in Aguas Calientes.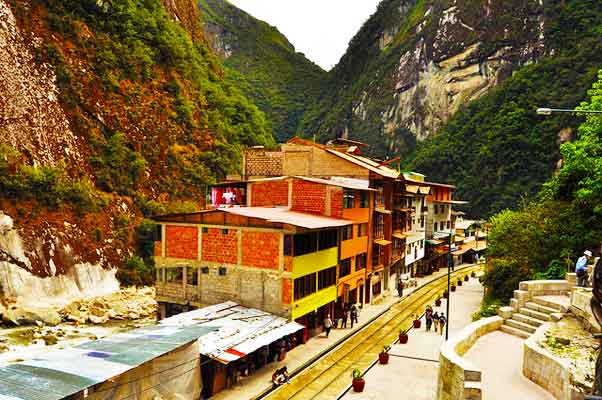 Inca Trail Accommodation
The accommodation offered along the Inca trail is mostly government-design campsites. These camps accommodate large numbers of hikers which can mean overcrowded spaces and limited bathroom facilities. For those who want a bit more, there is a significantly more comfortable glamping option, with privately set up bathrooms and gourmet meals.
Keep in mind that one or two squat toilet blocks are provided along the trail but otherwise you will need to wait until you get to your campsite.
Salkantay Trek Highlights
Depending on your guide, you may have the option of zip lining, visiting a coffee farm or enjoying the natural hot springs along the way.
Who Should Hike The Salkantay Trek?
This trek is for the more experienced, adventurous travellers who are up for more challenging mountain passes. If you are a nature-lover who values solitude and is hoping to see wildlife or capture beautiful landscapes without many other hikers in sight, the Salkantay Trek will not disappoint.
Feeling spontaneous or forgot to book? The Salkantay Trek is usually available at the last minute.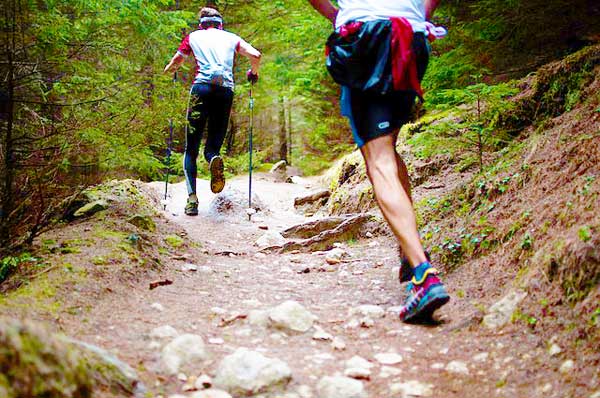 Untamed Natural Scenery
The Salkantay trail has arguably better scenery than the Inca trail, reaching higher points and more remote mountain wildernesses. The trail runs around the beautiful, glacier-covered Mount Salkantay "savage mountain," an imposing peak that dominates your view for the first part of the hike.
The magnificent turquoise Humantay Lake is a true highlight and you can expect plenty of wide-open mountain views, before heading down into the warm ancient jungle habitat.
South-west face of Nevada Salkantay, as viewed from the Salkantay trail
Wildlife
Fewer people on the trail mean a much better opportunity for animal sightings, including spectacled bears, deer and adorable chinchillas.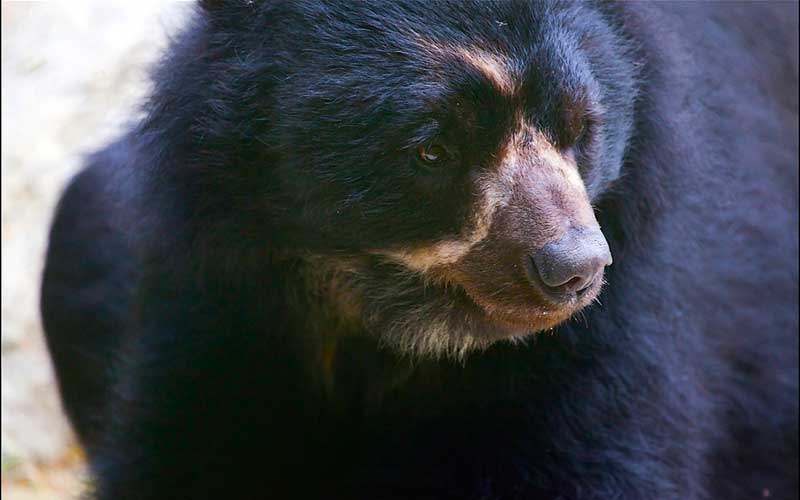 Cloud Forests and Warm Weather
Only two of the 5 days will be spent above 3,000m, for the rest of the trek you will enjoy warm weather in the cloud forests.
Llactapata Ruins
Although the Salkantay Trek does not pass as many ruins as the Inca trail, you will still get to see the archaeological site of Llactapata. You can stop at these ruins, nestled on the mountain top, facing Machu Picchu, before your descent into Aguas Calientes.
Llactapata, an impressive Inca ruin discovered by Hiram Bingham in 1911
Overview of Inca Trail
Who Should Hike The Inca Trail?
If you love history and culture, we suggest you follow this historic route. Not only will you be able to book your holiday well in advance, but you will also see countless historical ruins, making this the ideal trail for you.
The Inca trail only requires moderate fitness but can become busy so this hike is for those that don't mind sharing the trail.
Ancient Incan Ruins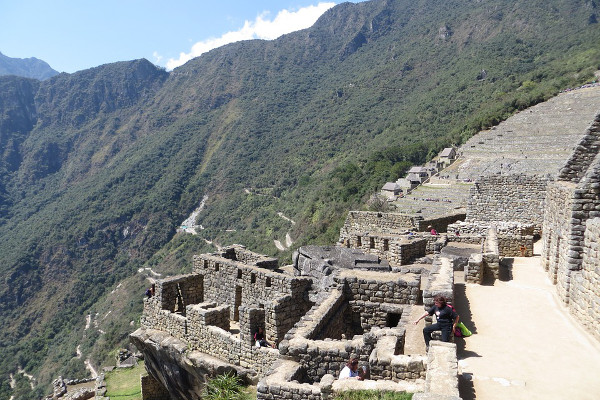 The Inca trail is so named as it follows the original route of the ancient Incan people on their journey to Machu Picchu. You can expect to pass through the remains of Patallaqta, Sayacmarca, Runcurracay and Phuyupatamarca and the stone terraces of Wiñay Wayna.
These are just some of the iconic features on this trail. If you want more, knowledgeable guides can take you back in time to explore the culture and history of the Incas.
Daybreak At The Sun Gate
Your hike comes to an end at daybreak as you wake up before the sun to get early access and pass through the Sun Gate (Inti Punku) into the stone city of Machu Picchu. A fitting reward after 4 days of hiking!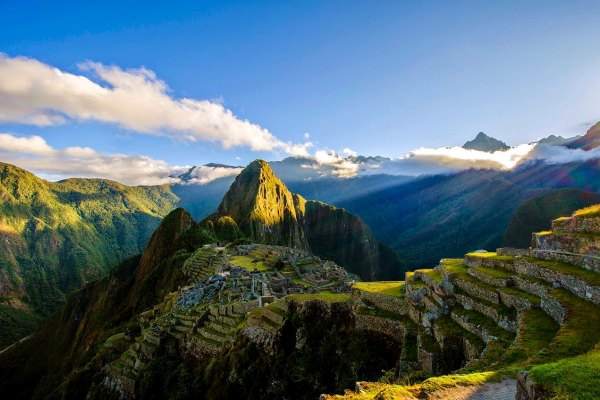 Notable Mountain Climbs
There are two notable climbs along the Incan Trail. The highest is the Dead Woman's Pass (4,215 m / 13829 ft) which should take around 6 hours to climb up and 2 hours to descend. The second is the Runkurakay Pass, which takes around 4 hours up and down reaching 4,000 m / 13,123 ft.
Meet New People
With hundreds of people on the trail on any given day, you are likely to encounter other hikers en route. The busier trail offers the opportunity to chat with like-minded hikers, while you catch your breath or enjoy the views along the way.
Choose The Sections You Will Trek
There is some flexibility when deciding which part of the trail you want to hike. The full hike is 4 days whereas a two-day option gives you access to some of the popular ruins. This is ideal for hikers with limited time or who don't want to commit to the full hike.
Pro Tip: Some sections of the trail are along narrow or steep pathways, so it may be a little intimidating if you don't have a head for heights!
Final Thoughts
Based on our review, we can conclude that the Inca trail is the right choice if you want to see as many historical ruins as possible and claim bragging rights to completing one of the most popular treks on the planet.
If you prefer nature and open landscapes or simply want a more challenging hike, we recommend the Salkantay trek. Either way, prepare for an experience of a lifetime!