Cusco, or Cuzco (Spanish) and Qosqo (Quechua), was once the capital of the Incan empire and is today the capital of the Cusco Region and Province.
Cusco is the centre of the Quechua culture, a UNESCO World Heritage Site, the Historical Capital of Peru and one of the most visited cities in the country.
It receives over 2 million visitors per year, many of which use the city as a base from which to embark upon a trip to Machu Picchu, which lies to the northwest.
In this article we have set out the ultimate line-up of things to do in Cusco city and the Sacred Valley.
Important Note on Cusco's Altitude!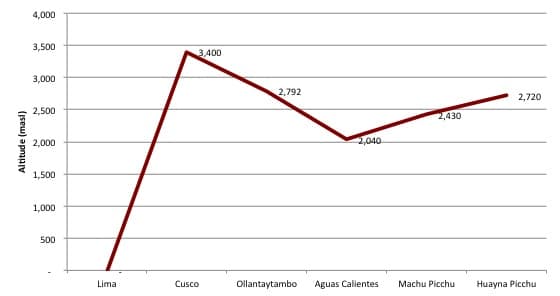 Probably the first thing about Cusco that strikes a newly-arrived visitor is the air.
At 3,400m (11,155 feet) above sea level, the air is thin and altitude sickness – soroche – can be problematic. Upon arrival, it is prudent to spend a day relaxing as you acclimatise – and a further two days if serious trekking is on the itinerary. You can read detailed information on acclimatisation and altitude sickness here.
Alternatively, if you have the time we recommend going straight from Cusco airport to the Sacred Valley, which at 2,800m above sea level is significantly lower than Cusco city. The quaint Quechua towns of Urubamba and Ollantaytambo offer a wide variety of hotels and hostels and make for a great base to explore the Valley for a day or two before retuning to Cusco, properly acclimatised.
Things To Do In Cusco
Cusco Tourist Ticket (Boleto Turistico)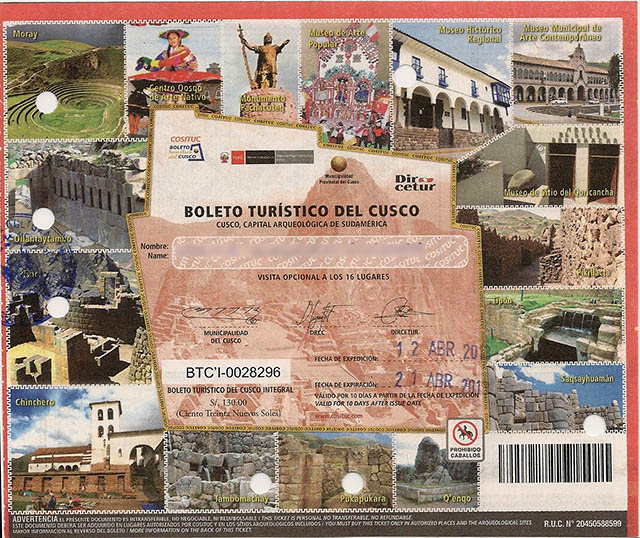 A Cusco Tourist Ticket or Boleto Turistico is a permit that you can buy to get free access to a number of sites in and around Cusco.
The Boleto Turistico can be bought at Oficina Ejecutiva del Comité (OFEC), which is on Ave. Sol 103 in Cusco. OFEC are open Mon-Fri 8:00am to 5:30pm & Sat from 8:30am to 12:30pm.
Tickets cost 130 Soles for a 10-day pass or 70 Soles if you have a valid ISIC student card.
A valid ticket gives you access to the following sites:
Monastery of Saint Catherine of Cusco, Museum of Contemporary Art, Museo Historico Regional, Museo del Sitio del Qoricancha, Museo de Arte Popular, Centro Qosqo de Arte Nativo Danzas Folklórico, and Monumento Pachacuteq, Sacsayhuamán, Qénqo, Pukapukara, Tambomachay, Chinchero and the ruins of Pisac, Ollantaytambo, Tipón and Pikillacta.
A good guidebook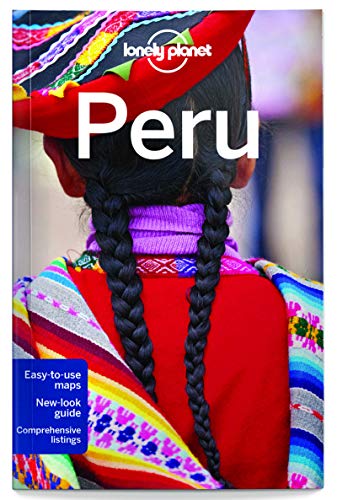 We highly recommend getting a good guidebook which will undoubtedly heighten your visiting experience. There is nothing worse than walking around a city, local market or ancient ruin and not having the faintest clue about the history or significance of the thing you are looking at.
For a really good general guidebook on Peru you cannot beat the Lonely Planet Peru (Travel Guide), which offers a brilliant section on the entire Cusco region (incl. Machu Picchu). Alternatively we would also recommend the Trailblazer Edition for The Inca Trail, Cusco & Machu Picchu
Cusco Visitor Sights
Historic Inner City Sites
Cusco city is steeped in rich history. The Killke civilisation occupied the region from 900AD to 1,200AD. The Inca's took control in the 13th Century and made Cusco the capital of their Empire. When the Spanish arrived in 1533 they destroyed many of the Inca temples and buildings, and used the foundations for some of the buildings you can see in the city today.
Here are the main historic sites that we recommend visiting in Cusco.
Plaza de Armas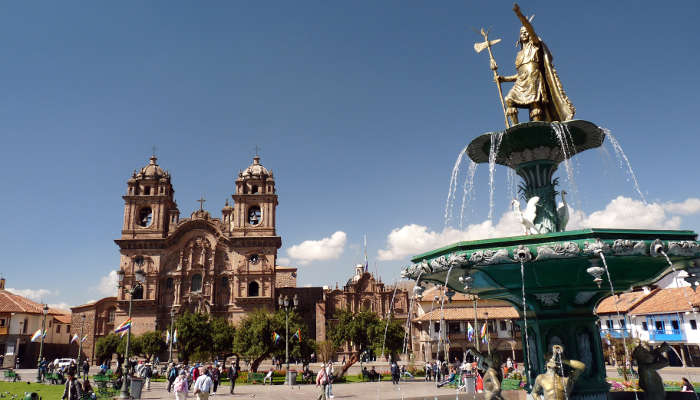 The Plaza de Armas
The Plaza de Armas is the main square or historic centre in Cusco. It is the tourist hub of the city and a great starting point to visit the main sites.
The Plaza is surrounded by a number of hotels, restaurants and shops which give it a very lively atmosphere, as well as some noteworthy cathedrals.
Another interesting square is the Plaza de San Francisco, which is southwest of the historic centre.
Cusco Cathedral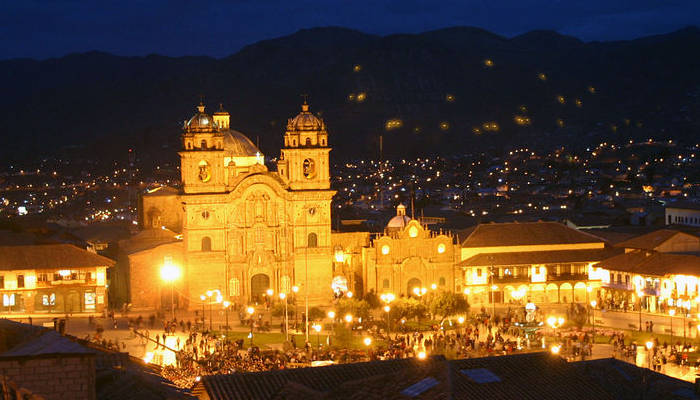 The Plaza de Armas with Cusco Cathedral all lit up in the background
Cusco Cathedral, aka Cathedral Basilica of the Assumption of the Virgin, is the mother church of the Roman Catholic Archdiocese of Cusco. It is located on the Plaza de Armas and was built in the early 1600s, and completed in 1654.
It is undoubtedly one of the most impressive buildings in Cusco. It is exceedingly pretty by night (see pic below). The facade is renaissance-style, while the interior is baroque. Within are elaborately-carved wooden altars that are covered with gold leaf.
There is much engraved silverwork in addition to an exquisite collection of paintings of which a number are by masters. Photography is not permitted, in contrast to most cathedrals, which are all-too-proud of their art.
The Iglesia del Triunfo (Church of Triumph) and Iglesia de la Compania de Jesus (Church of the Society of Jesus) are adjacent to Cusco Cathedral and also worth visiting.
Qurikancha (aka Qorikancha)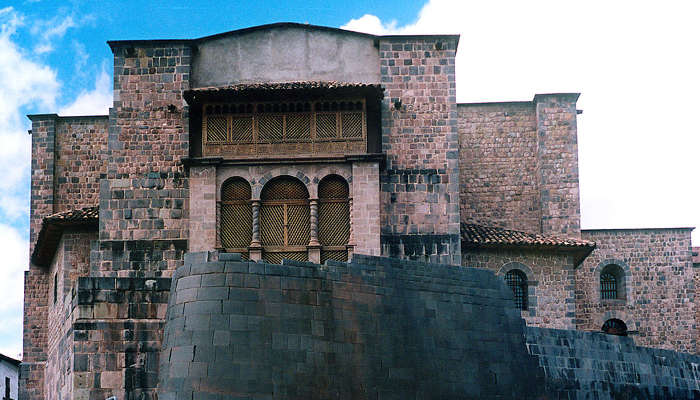 Church of Santo Domingo, built atop of Qurikancha, one of the most important Inca temples
Qurikancha (which means 'enclosed place' in Quechua) used to be the most important temple in the Inca Empire.
The temple was dedicated to the Sun God (Inti) and was very ornately decorated, with gold walls, floors and statues. When the Spanish discovered it they were amazed by it's opulence. Unfortunately, most of the gold was used to 'pay' the Spanish, who had placed a ransom on the life of the Inca Emperor, Atahualpa.
The Spanish eventually demolished Qurikancha and built the Church of Santo Domingo on it's foundations. Today one can still see Inca walls within the Church. There is a small charge to enter the church, which is situated just off the Plaza de Armas.
More info about Qurikancha and the museum of Saint Dominic Priory can be found here.
San Blas
One of the most unmissable things to do in Cusco is the district of San Blas, a funky place with unique cafés and some of the most interesting shops in all of Peru.
It is the artisanal centre of Cusco, where shop owners can be observed executing their craft. A custom-made piece makes for a fantabulous gift for a loved one or, in case you needed an excuse, yourself.
There are many slopes and stairs in San Blas, which might be tiring on your first day unless you opt for a taxi.
Other Worthy Sites
Monastery of Saint Catherine of Cusco

Calle Santa Catalina Angosta 401, Historic Center of Cusco, Half block distance from the Main SquareEntrance ticket = 8 Soles / Boleto Turistico gets you free entryOpening times: Monday TO Ssaturday: 8:30 a.m. – 5:30 p.m. Sunday: 2:00 – 5:00 p.m.Phone: +51 984914922 Web:

 http://www.monasteriosantacatalinacusco.org/

Monumento Pachacuteq

Located down Ave. Sol you will find an impressive 22m high statue of Inca Emperor Pachacuteq. Entrance via Boleto Turistico
Museums and Galleries
There are a number of great museums and galleries in Cusco. Here are the ones we recommend:
Museo de Arte Precolombino (Pre-Columbian Art Museum)
Facinating museum that is well worth the visit. Great collection of pre-columbian art, and for the kids there are llamas in the garden.
Address: Plaza de las Nazarenas 231, Cusco (Just off the Plaza de Armas)
Opening times: Mon – Sun: 9:00 am to 22:00 pm (Entrance: 20 Soles / 10 Soles for Students or free with Boleto Turistico)
Web: http://map.museolarco.org/museo_en.html
Museum of Contemporary Art
Interesting showcase of Peruvian contemporary art
Address: Municipal Palace, Cusipata Square (The Museum is located in the Historical Center of the town of Cusco, one block from the Central Square)
Opening times: Mon – Sat: 9:00 am to 6:30 pm (Free Entrance)
Web: http://www.municusco.gob.pe/museo/indiceEng.htm
Museum of Sacred, Magical and Medicinal Plants
Well worth the visit. Super interesting!
Address: Santa Teresa 351, Cusco
Opening times: Mon – Sat: 9:00 am to 6:00 pm
Web: http://museoplantascusco.org/en.html
ChocoMuseo
Definitely visit if you have kids. Chocolate museum and factory, yum! 2-hour tour and workshop.
Address: Entrance Garcilaso street 210, Cusco (two blocks from Plaza de Armas)
Opening times: Mon – Sun: 9:00 am to 6:30 pm
Web: https://www.chocomuseo.com/peru/cusco/
Museo del Centro de Textiles Tradicionales de Cusco
Interesting and free museum that showcases the colourful local textiles of the Cusco region
Address: Av El Sol 603, Cusco
Opening times: Mon – Sat: 7:30 am – 8:00 pm
Fractal Dragon Art Gallery
A wonderful display of local and Peruvian art, some of which is on sale.
Address: Calle Arequipa/Q'hapchik'jllu 159 & 175 (Just 2 blocks from the Plaza de Armas on the walkway between Maruri and Santa Catalina streets)
Opening times: Mon – Sat: 9:00 am – 9:00 pm (Free Entrance)
Web: http://www.fractaldragon.com/welcome.html
Markets and Food
San Pedro Market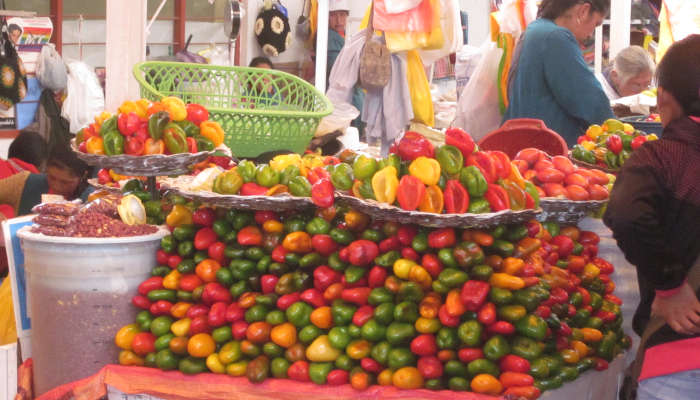 Church of Santo Domingo, built atop of Qurikancha, one of the most important Inca temples
If you only do one thing in Cusco make sure you go to San Pedro market. This will be one of the most colourful, vibrant and eye-opening experiences of your life.
The market is segmented into various sections that range from fresh food and produce (fruit, vegetables, meats, cheeses, breads ect) through to local textile stores, juice stores and pop-up restaurants. Not to be missed.
Here are some pics from the market.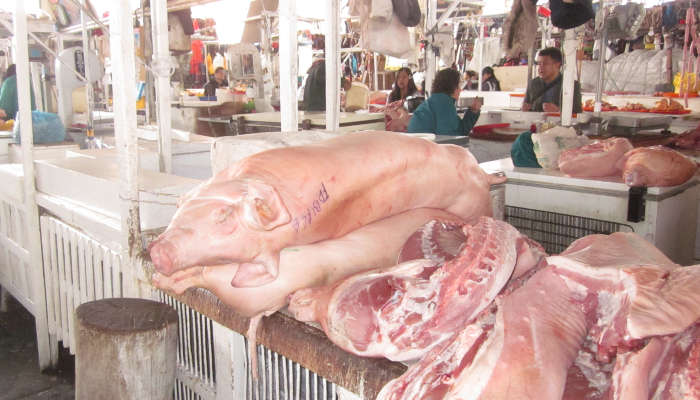 Food You Should Try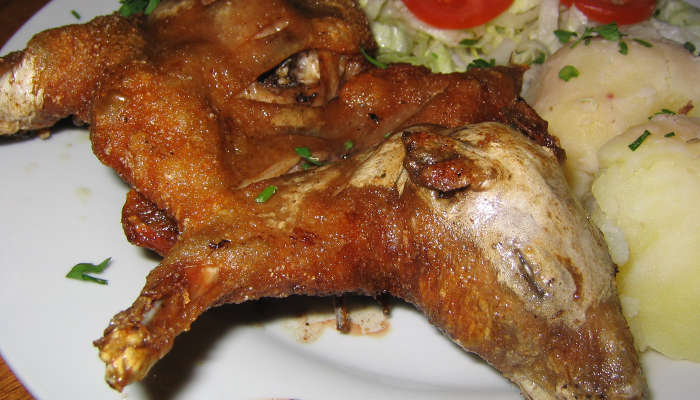 Cuy
Food is one of Cusco's main attractions, as the array of national cuisines is one of the best of any South American city. Would you not like to try some guinea pig?
Cuy in Quecha, this tastes like a cross between chicken and pork and is a local delicacy that is usually the most expensive item on any menu.
It is customarily served whole, so it will stare right back at you. You are expected to eat it with your hands – cutlery makes little impact. Guinea pig is the principal dish in the painting of the Last Supper found in the Cusco Cathedral.
Other notable foods include:
Cuy Asado (Roast Guinea-Pig)
Pepián de Cuy (Guinea-Pig stew)
Rocoto Relleno (Stuffed hot pepper)
Chiri Uchu (Cold chili)
Choclo con Queso (Boiled fresh corn (maize) on the cob)
Chicharrones (Fried Pork, Potatoes and Salad)
Lechon (Roasted Pork)
Cebiche (Shellfish and small pieces of raw fish, marinated in lemon juice and served with salad, potatoes or corn)
K'apchi de zetas (A mushroom and green bean stew served with rice)
Chairo (Lamb or beef soup)
Drinks You Should Try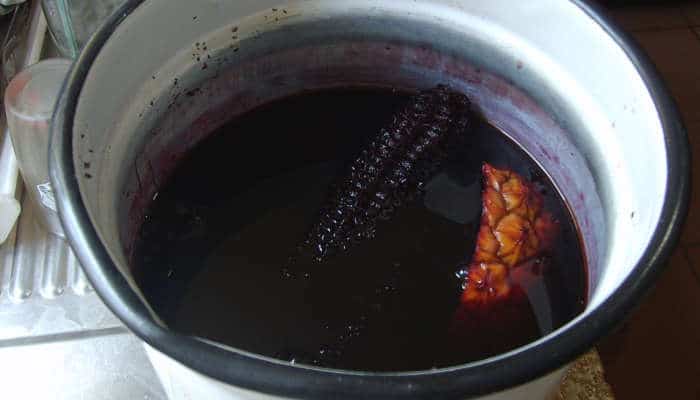 Chicha morada – unfermented chicha made from purple maize and boiled with pineapple and spices
The Cusco region also offers a wide variety of local beverages.
Here are a few you should try:
Pisco Sour

: "Pisco" is a Peruvian brandy made of white grapes. Cusco folk like to sour it up with some lemon juice, sugar syrup and egg whites

Yellow Chicha: This is an alcoholic drink inherited from Inca period. It's prepared from dry yellow corn that is ground and boiled. Liquid from the boiling and grinding process is sifted in reed baskets of dry "ichu" (the local bunch grass) and then fermented during 3-days in ceramic jars
Frutillada: Same as Chicha above with the addition of strawberries which are added to give the drink a pink tinge and sweeter taste
Chicha de Quinua or Kiwicha: These are non-alcoholic drinks prepared form quinua (aka quinoa) or kiwicha flours
Chicha Morada: Another non-alcoholic refreshment resulting from boiling dry purple corn on the cob; lemon juice and sugar are added
Mate de Coca (Coca Tea): Coca leaves soaked in hot water to produce an infused tea. It is widely drunk by locals as a remedy for stomach pains, headaches, sleeplessness and altitude sickness
Nearby Inca Ruins
There are a number of notable Inca ruins within 30-60 minutes from Cusco. Here are the few we recommend you visit. You can easily rent a taxi to take you to these sites (~US$5-20 return, depending on which site), and the first one listed below you can in fact walk too.
Saqsaywaman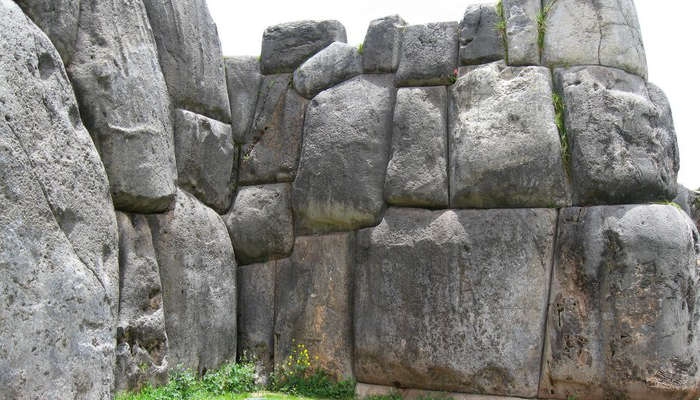 Saqsaywaman ruins, the image shows the classic Inca architectural style of rock on rock without mortar, known as ashlar
Saqsaywaman (aka Sasawaman, Saksawaman, Sasaywaman or Saksaq Waman), which means 'satisfied falcon' in Quechua, is an Inca complex situated just outside the northern end of Cusco city.
This is a great site to go have a picnic, enjoy the birds-eye views of Cusco, and explore the ruins. The site is situated higher than Cusco (3,700m) so make sure you are well acclimatised. Just behind the ruins are some rock slides and interesting tunnels that are great fun for kids!
You can walk to Saqsaywaman. From Plaza de Armas it is straight up Plateros street which becomes Saphi street. From here it gets a little complicated so ask locals to point you in the right direction.
It goes without saying that you should only walk there in a group and don't flash your possessions like cameras. Muggings have been reported in this area.
There is a small charge to enter the ruins or if you have a boleto turistico you can present this for free entry.
Pikillaqta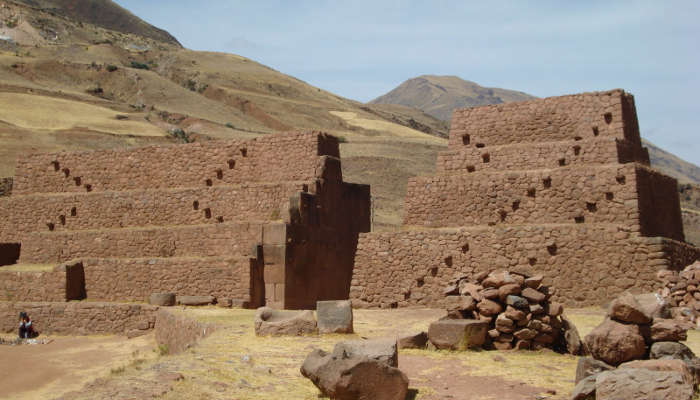 Pikillaqta ruins
Pikillaqta, which literally means 'flea place' in Quechua (don't worry there are no fleas), is a large Wari archeological site just 20km east of Cusco.
The Wari were a civilisation that inhabited huge portions of South America and pre-date the Incas by several centuries. The site is thought to have been used for ceremonies, like large feasts. It was founded in circa 500AD and abandoned in 1,200AD.
Tambomachy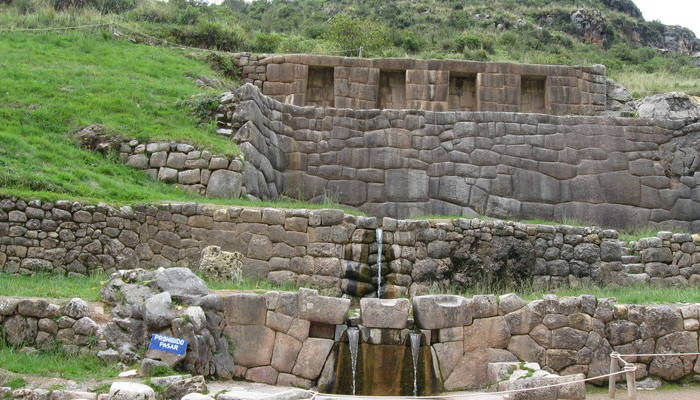 Ruins at Tambomachay
Tambomachy (aka Tampu Mach'ay or Tampumach'ay), which means 'guest house cave', is an interesting ruin situated just north of Cusco on the route to Pisac.
The exact purpose of the site is still unknown but some think it may have been used as a spa given its extensive use of aqua-ducts and canals.
Moray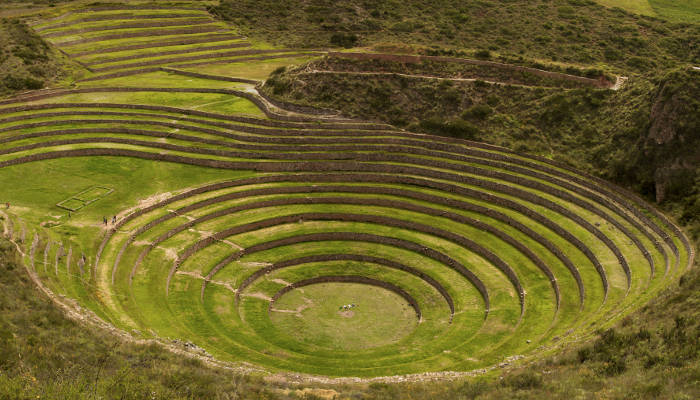 Fascinating Inca ruins at Moray
Moray (aka Muray) is a super interesting Inca site situated a little further outside of Cusco than the first three Inca sites suggested above (50km away, near the village of Maras). It is however, well worth the visit.
The site consists of large circular terraces that may have been used by the Inca's to study the effects of weather / climate changes.
The depth, design and orientation of the terraces means that temperatures can differ by 5 degrees C from top to bottom. While at Moray you should also take the time to visit Maras Salt Pans (more on this below)
Huchuy Qosco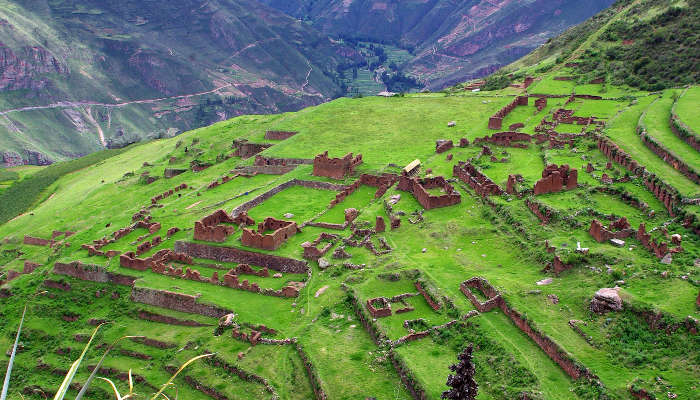 The ruins at Huchuy Qosqo, showing the unique adobe and stonework
Huchuy Qosco, which means 'Little Cusco' in Quechua, is another fascinating Inca site. It is however not a day trip and does requires hiking.
The easiest way to reach it is by driving from Cusco to the town of Lamay (2 hours) and then hiking 3-4 hours up to the site. Alternatively many tour operators offer a 2D/1N hikes to Huchuy Qosco which includes stops at Tambomachy and sometimes Moray. Click here to read more about the Huchuy Qosco trek.
Hiking Trails
There are a number of wonderful trekking trails throughout the Cusco region.
If you are interested in trekking we recommend you check out our article on hiking trails in the Cusco region and to Machu Picchu.
Non-hiking Adventure Activities
Whitewater rafting and canoeing
The Cusco region has many rivers and great whitewater rafting opportunities. Upstream rapids near the Chuqicahuana or Cusipata sections of the Rio Urubamba/Vilcanota provide the best 'nearby' opportunities to raft, and depending on the season (Nov-April) rapids can get as big as Class 5.
Please note: do not be duped into rafting in the Sacred Valley near the towns of Ollantaytambo or Urubamaba as the water is severely polluted here.
If you are looking for a less adrenaline-filled rafting experience then the Piñi Pampa section of the Rio Urubamba provides calmer rapids (Class 1 and 2) and you can paddle your own canoe!
The ultimate rafting experience in the Cusco region is undoubtedly that offered on the Rio Apurimac – a source river to the Amazon. Rafting trips here usually last 3-4 days and include Class 3-5 rapids, incredible mountain scenery and deep canyons.
Check out our article on rafting in the Cusco region here for more details.
Rent a motorcycle
If you know how to ride a motorcycle then renting a bike is one of the best ways to see Cusco and the Sacred Valley. Motorcycles can be rented in a few places across Cusco city but you are best placed to go to Calle Plateros, just north of Plaza de Armas.
Here you will find a few shops that will rent you a bike for the whole day at US$40-$US50 (this includes two helmets if you are travelling with a partner), gloves and sometimes a jacket. They usually don't even check your license, or if they do a drivers license should suffice.
Recommended route: Head North out of Cusco on the road to Pisac. You can stop at Tambomachy and the Cochahuasi Animal Sanctuary.
Pisac has a great local market. From here continue to Urubamaba or Ollantaytambo for lunch, there are Inca sites along the way. Head back using the route via Chinchero.
Mountain Bike Tours
Mountain biking tours are currently the craze. There are two popular routes, a one-day cycle across the Chinchero Plains where you get to visit Moray and Maras Salineras, or the Inca Jungle Trek (a 4D/3N mountain biking / trekking route to Machu Picchu), via the town of Santa Maria and Santa Teresa)
Make sure to book with a reliable operator as there are a number of sharks out there! You can read about the Inca Jungle trek option here.
Paragliding
Paragliding across Cusco is another growing tourist activity. Tours fly over the Sacred Valley and some go even further into the Andes. If you are interested in doing a paragliding tour this detailed article will help you find a reliable operator.
Festivals and Events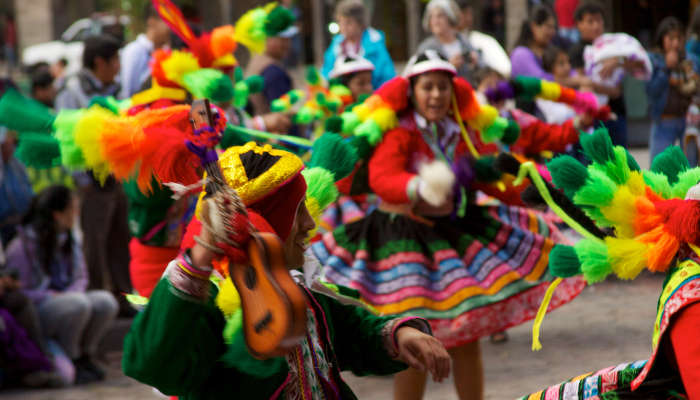 Traditional Dance Fiesta
Festivals in Cusco are virtually unending, and if you are lucky enough to visit during one of these colourful celebrations, then we highly recommend attending.
We have provided a calendar of Cusco festivals and events below.
Late March / early April – El Senor de los Temblores (Lord of the Earthquakes): A colourful procession held on the Monday before Easter Friday. The festival is run in remembrance of the devastating Peruvian earthquake of 1650
May 2nd and 3rd – Crucix Vigil: A religious festival that is celebrated on the hillsides around the city
Early May – Cruz Velacuy / Fiesta de las Cruces (Festival of the Crosses) – A Catholic event whicj entails the carrying of crosses around Cusco city and its nearby communities
May / June – Festival de la Cerveza Cusquena: This is a not to miss opportunity to see some top local Peruvian musicians perform at one of the leading music festivals in South America
May / June – Q'oyoriti: This festival takes place near Ausangate and is a traditional Andean celebration
May / June – Corpus Christi:  A series of religious events and processions inside Cusco's cathedral, on the 9th Thursday following Easter
Early June – Qoyllor Ritt:  Another festival at Ausangate, this time an Inca / Christian combo event where participants carry blocks of ice over many miles
June 24th – Inti Raymi (Festival of the Sun): If you are lucky enough to be in Cusco on the 24th June then then prepare for the ultimate Cusco festival. The whole city and region celebrates the Inti Raymi (Festival of the Sun) wjicj involves a re-enactment of Saqsaywaman's Inca winter solstice festival. You will see street dancing and pageantry around the Koricancha Temple and the Plaza de Armas
June 29th – Feast of Saints Peter and Paul: Catholic religious events celebrated across Peru
Mid-July – Virgin del Carmen – A dance and music festival held at Paucartambo town, which is 3-4 hours from Cusco
July 28th and 29th – National Independence Days: Another two big days to celebrate Peruvian independence from Spain. Events are held in Cusco and throughout Peru
October – Cusco Touristic Month: October is Cusco's month to celebrate tourism so expect to see many events and small festivals
November 1st – Todos Santos (All Saints Day): Another Catholic religious event and national Peruvian holiday
November 2nd – Dia de los Muertos (All Souls Day): A day to celebrate family
December 8th – Fiesta de la Purisima Concepción (Feast of the Immaculate Conception): A lively Catholic festival in honour of the Virgin Mary
December 24th – Santuranticuy Artisan Crafts Fair: A wonderful arts and crafts fair held at the Plaza de Armas​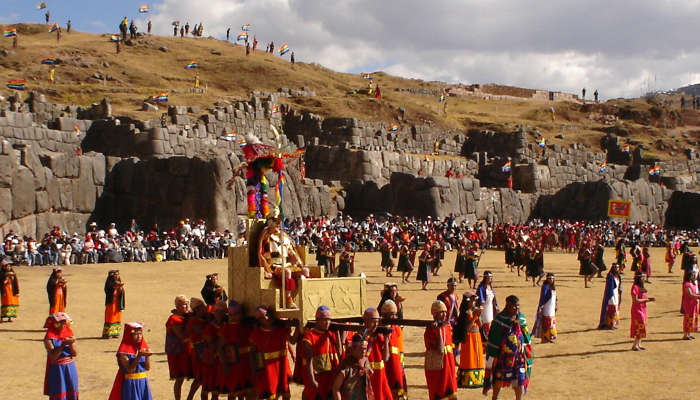 Inti Raymi (Festival of the Sun) which occurs on the 28th July
Visit Machu Picchu
Most people come to Cusco to visit Machu Picchu. The famous Inca city can be assessed either by train or by trekking. Booking well in advance for both train tickets or trekking tours is important.
Our article – How to get to Machu Picchu – shows you all the travel options you have at your disposal from Cusco.
Other Cool Things to Do in Cusco
Cochahuasi Animal Sanctuary
Cochahuasi Animal Sanctuary is an amazing rehabilitation centre for injured and victimised animals. If you have the time we highly recommend visiting. The sanctuary has pumas, condors and vicunas.
Address: Located at Km 22 of the route Cusco – PisacWeb: http://santuariocochahuasi.com/
Maras Salienes
Maras is a town in the Sacred Valley, 40km from Cusco. It is the location of the Maras salt pans which are well worth a visit. The town is located near Moray so we recommend combining these visits.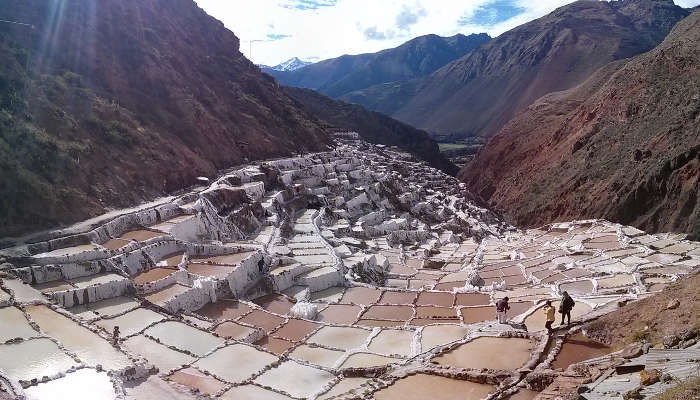 The impressive Salt Plans near Maras
Get a massage
There are a number of ladies in and around Plaza de Armas who hand out fliers for massages. These are generally legit and cost US$5-6 for 1 hour!
Play Sapo and Drink Chicha
Sapo is a traditonal bar game which involves throwing frichas, small coins, with a bronze toad attached (the sapo) into holes in a table.
Points are scored for getting the coins into the holes. Chicha (a local beer, see drinks section above) is usually served while playing and we recommend befriending locals to help you get started on the game.
Watch a Football Match
Soccer fans should not overlook the football matches at the Estadio Garcilaso de la Vega stadium – a great chance to support Cusco's home team, Cienciano.
Board and Lodging
Restaurants
There are 100s of restaurants in Cusco.
For cheap and cheerful meals we recommend you check out the following four restaurants: Creperia La Bo'M, Organika, Qucharitas and Green Point My Vegan Restaurant.
More expensive, but super good restaurants include: Le Soleil, Qespi, MAP Cafe and Cicciolina.
Hotels and Hostels
Accommodation options in Cusco range from budget hostels all the way through to luxury 5-star hotels. Have a look at our Cusco Hotel and Hostel Guide to get a sense on where you would like to stay during your visit.
You might also want to check out our hotel and hostel guide for Ollantaytambo and Aguas Calientes.
Cusco FAQ
If you have any questions about things to do and see in Cusco then please leave us a comment and we will respond within 24hours (so do check back).
If you have found this Things to do in Cusco article helpful, please share on your social networks using the Facebook and Twitter buttons below, or better still, if you have a blog and think this information would benefit your audience, please link to us. Thanks!
Tags: Things to do in Cusco, Things to do in Cusco Peru, What to see in Cusco, Best things to do in Cusco, Things to see in Cusco, Top things to do in Cusco
References: (1) Personal experience, (2) Trailblazer Guide, (3) TripAdvisor, (4) Lonely Planet, (5) Wikipedia
Love Pinterest? Pin it!